Accommodation Lake Balaton, Lake Balaton accommodation
"Total spa relaxation" • The first "all-inclusive" spa and wellness hotel in Hévíz, next to the famous thermal lake. • Pampering and relaxation utilising the lake's mineral-rich thermal water and revitalising mud. • Choose from an...
More
---
Hévíz Spa distance 300 m
LOCATION Nestled in the West Balaton Region in Hungary, just 6 kilometers from the town of Keszthely, Palace Hotel offers you a central location in the pedestrian street of the town within 200 meters from the Hévíz Thermal Lake. HOTEL AND...
More
---
Hévíz Spa distance 200 m
The hotel is unique in Central Europe, Heviz Spa Lake is located right next to where the cure or the joints, and to treat rheumatic complaints and to choose our hotel to spend their rehabilitation period. Or just spend a pleasant weekend, rest and...
More
---
Hévíz Spa distance 250 m

HOTEL INFORMATION Hunguest Hotels Hungary: One of the main, traditional Hungarian hotel chains, with 28 hotels in the most important holiday resorts and spas of the country. Hunguest Hotels opened its newest 4 star hotel on 1st July 2003 in...
More
---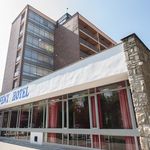 'Just steps away from the shore of lake Balaton' LOCATION Napfény Hotel is located 1000 metres from downdown of Balatonlelle, just within 50 metres from the beach of lake Balaton. GUEST ROOMS The 6-floor hotel features 90 classic and...
More
---
Distance of Lake Balaton less than 50 meter
Distance of Balatonlelle Adventure Bath less than 50 meter
| Available rooms | Person | Price for 1 night(s) |
| --- | --- | --- |
Hévíz The world famous thermal lake of Hévíz with its largest water surface in Europe offers open-air bathe during the whole year. Its curative effect reveals principally in curing of rheumatological and locomotor diseases. HUNGUEST Hotel...
More
---
Hévíz Spa distance 800 m

The friendly summer house includes two separate apartments, which can be booked together or separately. Downstairs apartment, sleeping 4+1 persons: Terrace, hall, kitchenette, 2 double sleeping alcoves, shower, toilet. Upstairs apartment,...
More
---
Lake Balaton distance 300 m
| Available rooms | Person | Price for 1 night(s) |
| --- | --- | --- |
Two apartments on the upper floor of a house situated in the center of Szántód are offered for rent to 2-10 persons all year round. The spacious 85-m2 flat is recomended for small groups of friends and families. Entrance hall, two bedrooms,...
More
---
Lake Balaton distance 500 m
Our four star hotel (providing all year service) is located in the Betekints-valley by the creek Séd, bordered by woody rocks. This part of the town is said to be the most beautiful one. The arcs of the viaduct, the silhouette of the...
More
---
| Special package offers ! | Number of days | Price |
| --- | --- | --- |
| Betekints hétvége | 3 day / 2 night | from 52.46 € / person / night |
| Lovelovelove | 7 day / 6 night | from 52.62 € / person / night |
Andrea Villa Hévíz Andrea Villa apartment in the famous thermal spa town of Heviz is one of the quietest streets in peaceful green belt district. The house is 800 meters from the unique Spa and it is located also close to the popular...
More
At this accomodaton you can book between the 2013-12-06 and 2013-12-06 period only minium 3 nights.
---
Hévíz Spa distance 850 m

Cities around Lake Balaton