HOTEL INFORMATION Hunguest Hotels Hungary: One of the main, traditional Hungarian hotel chains, with 28 hotels in the most important holiday resorts and spas of the country. Hunguest Hotels opened its newest 4 star hotel on 1st July 2003 in...
More
---

Hotel Sopron**** Window to the town, window to Sopron Sopron is 60 km far from Vienna, 90 km far from Bratislava, 220 km far from Budapest offering unique possibility to roam the region. The Hotel Sopron**** is located just ten...
More
---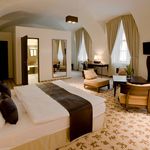 The 4 star superior category Buda Castle Fashion Hotel is named after the castle district, an elegant quarter of Budapest, high on the castle hill, on the Buda side of the Hungarian capital. Th e area is rich in tourist attractions including some of ...
More
---
Hotel Castello**** has been built in the foot of the castle of Siklós, wich is only a two hour travel by car from the capital city through the M6 highway. The four star hotel is connected with the Thermal Spa, in addition of wellness,...
More
---
The hotel is centrally located in the most beautiful part of Szeged, on the banks of the Tisza River, close to the Chatedral of Szeged (2 km). The spacious, air-conditioned rooms with a beautiful panorama to the river Tisza feature a balcony, free ...
More
---
Anna Health, Thermal and Adventure Bath distance 500 m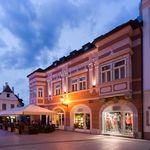 The most recently opened four-star hotel of Győr Elegance and style in the hearth of the city The up-to-date, four star Barokk Hotel Promenád has been inaugurated in May, 2013. The thematic furnished design hotel can be found at the...
More
---
Rába Quelle Medical Adventure and Thermal Bath distance 1 km
Hotel Vital**** provides relaxation and refreshment for the body and soul in calm, untouched enviroment inany seasons of the year. Good general condition, recreation, entertainment. Our hotel tries to contribute with its warm hospitality to your...
More
---
Zalakaros Bath distance 600 m
| Available rooms | Person | Price for 1 night(s) |
| --- | --- | --- |
Our four star hotel (providing all year service) is located in the Betekints-valley by the creek Séd, bordered by woody rocks. This part of the town is said to be the most beautiful one. The arcs of the viaduct, the silhouette of the...
More
---
| Special package offers ! | Number of days | Price |
| --- | --- | --- |
| Betekints hétvége | 3 day / 2 night | from 52.54 € / person / night |
| Lovelovelove | 7 day / 6 night | from 52.71 € / person / night |
Due to the renovation in the hotel is completely renewed both externally and internally and is pleased to receive its old and new guests with four-star rooms and high-standard services. The full-fledged renovation included hotel rooms, conference...
More
---
Anna Health, Thermal and Adventure Bath distance 2 km
Diamant Hotel Szigetköz Wellness - Information Diamant Hotel****, Szigetköz Wellness and Conference Our hotel is situated in an incomparable beautiful environment on a 5 hectare large area. Our large amusement park with swimming pool,...
More
---

| Available rooms | Person | Price for 1 night(s) |
| --- | --- | --- |